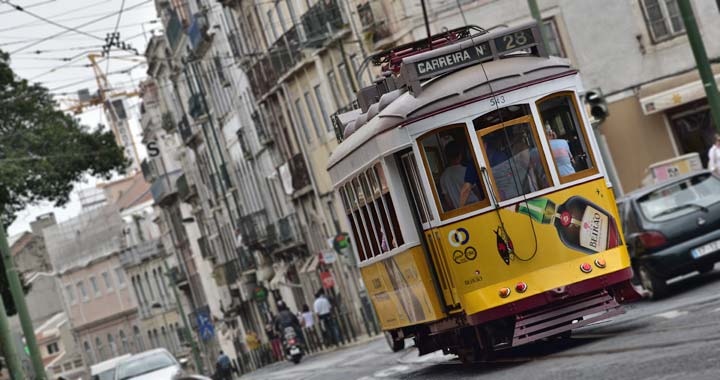 The delightful Remodelado trams date from the 1930s, and in any other city they would be housed in a museum, but in Lisbon, they are an integral part of the public transport network. These historic trams are still in use, as the 28 route is completely unsuitable for modern trams, due to its numerous tight turns and steep gradients.
A ride along the entire 28 tram route provides one of the best tours of the capital and is often a highlight of any holiday to Lisbon.
Today we headed out to board the famous Tram 28 for one last look at Lisbon.  On our way Col felt the need to experience Cod Fish A La Portuguese before we left so we sat ourselves down in one of the many restaurants for another culinary experience.  The fish was very tasty other than she needed a rake to comb the bones out of the Cod…
Once we were done with lunch and Col was done with picking the bones from her teeth  it was time to hop on the Tram to see a part of Lisbon that we had yet to explore.
The inside of the Tram still has the original wood and you can tell that it is well taken care of.
The Cod Fish….
Mine is the shrimp salad with the tomatoes in it, so……. Col's Cod Fish is naturally the other one.
Another Basilica.
We had no idea that we were going to come across this Basilica on the Tram route and believe me we have seen our share of Churches already, but this turned out to be one of the best.  We were glad we stopped to take a look.
This was just a picture of an Arch that I thought was nice.
 We came across this Old Baba hanging her laundry so I thought it would make for a good picture.
Finally, by far the best value in Lisbon was this one litre box of wine that we could purchase for about $1.40 Canadian.  We only purchased one box (today).